Best Sellers from Hon - Chairs, Storage, Desks and more!
Our name says it all. At Office Ready, we understand what it means to be "office ready", which is why we carry products from some of the leading office furniture manufacturers, like HON. Our job is to find high quality products, while also offering a variety of choices, to keep your job operating smoothly and efficiently.
Whether you are looking for office chairs, desks, bookcases or filing drawers, HON has something for you. HON goes above and beyond to make superior products that are designed to work with you.
HON knows that furniture should be comfortable. But in an office, it should not stop there. Office furniture should help you get the most out of your work by being adaptable and simple to use, all while fitting your budget and maintaining your office's professional appearance. HON achieves all of this, giving you the best value.
Office Ready understands that standards are important. Office furniture is a fundamental part of what keeps your work going and your office operating smoothly. It should work along with you, on your terms. Choose from a variety of chairs that cater to your preferences, or keep your documents organized, secure and easily accessible with files, desks or pedestals. Whatever your office needs, HON makes it, Office Ready supplies it.
LATEST ARTICLES

An All-Occasion Essential When it comes to refreshments, having the right cup makes all the difference. Enter the Boardwalk Translucent Cold Cups—an exceptional choice adaptable to any setting or occasion. No matter the size you require, these cups deliver an economical, leak-resistant solution perfect for everything from office gatherings to casual events. Adaptable Sizes, Boundless Possibilities Whether you're hosting a bustling office meeting or organizing a relaxed backyard get-together, Boardwalk...
Read more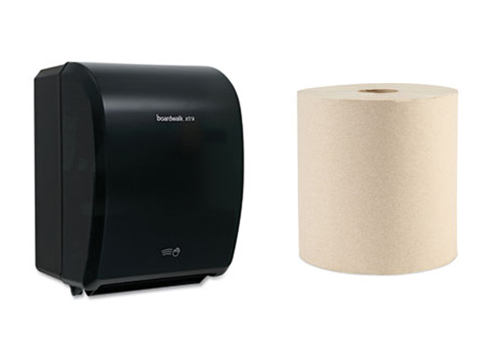 In the world of commercial restrooms and kitchens, the demand for efficient, hygienic, and eco-friendly solutions is ever-present. Boardwalk, a trusted name in the industry, offers two exceptional products that provide a seamless and environmentally conscious solution for high-traffic areas: the BWK33GREEN Hand Towel Dispenser and the BWK32GREEN Boardwalk® Green Xtra Roll Towels. BWK33GREEN Hand Towel Dispenser: The Ultimate in Efficiency The BWK33GREEN Hand Towel Dispenser is engineered to deliver...
Read more