Ergonomic Solutions - Sit or Stand
Get your office ergonomically stable. At Office Ready, we know that a supportive work environment starts with ergonomic furniture. Outfitting your workspace with furniture that is tailored to you and your administrative needs helps increase productivity and enhances your overall work experience. That is why we offer a wide selection of user-friendly office chairs and adjustable workstations designed for support and convenience, so you can work comfortably and efficiently.
Ergonomic Chairs
Sit well. Office chairs have become anything but ordinary and simplistic. Because, when it comes to sitting for hours at a time, merely sitting is not the only thing that is important. You need a chair that will support ideal posture and provide superior comfort while you work. But, every user and work setting is different. That is why chairs are, too. Deliberately designed with a combination of ergonomic features that are easily adjustable and customizable to you, these chairs help you sit better—and work better, too.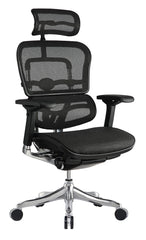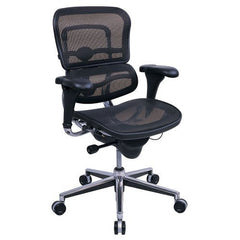 Alera K8 Series Ergonomic Multifunction Mesh-Chair
Alera merges a sleek, modern aesthetic with an exceptional ergonomic design. This multifunction chair caters to functionality as well as user support. An airy mesh back provides overall back support while keeping you cool and comfortable. To maintain circulation in the legs, this chair features a contoured seat with a gradually sloped edge to minimize pressure on the back of the knees. For the optimal arm placement, Alera included subtly cushioned arm rests for the perfect balance of soft and structured. Arm rests can be moved up and down and forward and backward, encouraging proper posture. For easy adjustability, a wire mechanism provides easy access to levers.
Alera EQ Series Ergonomic Multifunction Mid-Back Mesh-chair
This EQ Series chair appears minimal yet sophisticated—but, there is more to it. An elastic, polyester, mesh seat and back provides breathability to help you stay cool and comfortable. Additionally, a contoured seat with a gradually sloped edge eases pressure off the back of the knees to maintain circulation. With a blend of ergonomic features, this chair is designed for user adjustability and customization with easy-to-reach levers beneath the seat. Adjust the height of the back and the seat or utilize the Synchro-Tilt mechanism to modify the recline relative to the seat. The arms of the chair are also adjustable to support posture; simply raise or lower them, move them forward or backward, or modify the angle.
Eurotech Ergo Elite High-Back Mesh-Chair
This chair exudes the meaning of ergonomic and takes it to another level—or three. Featuring a three-level mesh back, including a headrest, this Ergo Elite chair provides total lumbar, mid-back and neck support, while also improving comfort through enhanced breathability. Eurotech combines a host of ergonomic features and functions into one chair in order to provide unmatched overall comfort and efficiency—and, it puts the control in the hands of the user. Among these ergonomic features is back angle and back height adjustment, including an adjustable headrest, seat height and depth adjustment and single lever adjustment. Additionally, the arms are easily adjustable by height, width and depth. This chair also features tilt-tension, tilt-lock and Synchro-Tilt mechanisms. This allows the back of the chair to recline relative to the seat and keeps it locked in place, creating a more even distribution of weight, helping to ease pressure on the body. For more information on these ergonomic features listed, visit our Chair Buying Guide.
Eurotech Seating Ergohuman Collection High-Back Ergonomic Chair
A similar yet simplified design compared to the Eurotech Ergo Elite, this chair was specially made for extended use of five or more hours, making it the ideal choice for a long work day. To sustain user comfort for hours at a time, this office chair features a two-level mesh back with flex zones for unlimited full back support. For additional comfort, the back height can be adjusted, and Synchro-Tilt and tension control allow the back angle to be adjusted while managing the tilt of the seat. This allows the user to modify the recline according to individual preferences. Once the preferred position is obtained, the chair can be locked in three different positions. To accommodate various statures, the height of the seat and the depth of the seat pan can be easily adjusted using levers located beneath the seat on the upper and lower right side. The height and angle of the armrests can also be modified to achieve proper placement. What else does this chair have to offer? Eurotech constructed this chair from 97 recyclable parts. It is also Greenguard Certified, so you can sit comfortably and contently knowing that this chair was made with integrity and limited chemical emissions to protect health and air quality in the workspace. This chair is available in black, blue, green, grey and orange. The black is available in both high and mid-back options as well as a leather fabric option.
Safco Twixt Extended-Height Ergonomic Chair
Get moving. While it can be difficult to stay active when working at a desk for hours at a time, Safco makes it easier. Designed by Thomas Walser, this simple yet useful backless chair features an upholstered swivel seat on an aluminum base. Height adjustable, portable and convenient, it pairs well with various work settings and accommodates different work surfaces, including standing desks. By allowing you to sit or lean against it, this chair helps you easily alternate between sitting and standing, encouraging better posture and more activity throughout your work day. This can help reduce tension and fatigue associated with being stagnant for long periods of time. Effortlessly modify the angle of the seat as well as the height of the chair from any position using the ring just below the seat.
basyx by HON Racing Style Gaming Chair
This is a game changer. This racing style gaming chair features a black bonded leather seat and back, contrasted with the option of green, grey, red or blue leather accents. Exuding a modern and high-tech appearance along with ergonomic features, this functional gaming chair is perfect for all ages and provides the user with options. Tilt control allows the chair to recline at various angles to accommodate ideal gaming posture, and padded arms can flip up or down, so they are there when you need them and out of the way when you do not. This chair also provides easy maneuverability, with a full rotation swivel and rolling casters.
Adjustable Desks and Workspaces
Ergonomics go beyond office chairs. Adjustable desks are highly ergonomic, too, providing an efficient and convenient way to work. Giving you the option to alternate between sitting and standing, these desks encourage healthier habits, keeping you moving more, while also improving focus and productivity. Additionally, adjustable desks allow you to modify your workspace in seconds, without hassle, so you can keep working without interruption.
basyx by HON Desktop Risen with Keyboard Tray
Not so basic. Designed as an add-on, this two-tier desktop provides a generous amount of workspace and features a keyboard tray on the lower level. Place it on your current desk or table to give you more freedom and control over how you work. A dual-lever mechanism allows you to easily adjust the height by lifting or lowering it. This makes it easy to switch between sitting and standing and helps you maintain proper posture. Available in black or white, this desktop is built from high-strength materials, making it strong and dependable.
Alera AdaptivErgo Sit-Stand Lifting Workstation
Change things up with this sit-stand lifting workstation, designed to adjust and tailor to your preferences. Levers positioned on each side allow you to lift or lower the desk effortlessly, up to 14 inches in either direction. A double-level work surface holds a keyboard and mouse on the lower platform and a monitor on the upper platform. This workstation is compatible with most monitors and it is specifically intended to be used with Alera Monitor Arms. Space is important. By design, this workstation saves space, remaining within your desk dimensions and lifts vertically, adjusting for you, without compromising any room. A reinforced base provides added support for any height. Once the workstation is adjusted to your preference, it stays secured in place. Cables can be placed neatly behind workstation.
BALT Up-Rite Desk Mounted Sit-Stand Workstation
Practice proper upright posture with a BALT Up-Rite desk. This workstation mount is simple to connect to your current desk, providing adjustable height of up to eighteen inches. BALT integrated practicality and convenience by featuring a two-level surface, giving you space for a keyboard and mouse on the lower level. This desk also includes a monitor attachment that is VESA compliant. By giving you the option to change between sitting or standing, this desk mount encourages more movement throughout your work day, helping you work better overall.
Alera AdaptivErgo Two-Stage Electric Height-Adjustable Table Base
Adaptive indeed. This electric, height-adjustable table base, uses two-stage telescoping to extend and contract. Based on preferences or needs, the user can adjust the height using simple, standard up and down controls. The controls prompt two motors to lift or lower the table base within a 19-inch range at a speed of 0.8 inches per second, depending on weight—and, it can lift up to 250 pounds. Alera made it simple. This table base is easy to assemble and breakdown with fold-out legs and adjustable leveling glides are included to compensate for uneven surfaces. Cable management channels are built-in to help keep your workspace neat and tidy.
Height-Adjustable Electric Base
Take your table to new heights with this three-stage, height-adjustable electric base. Two motors are controlled using a four-programmable switch, allowing the user to effortlessly raise or lower the height between 25 and 50 inches. This makes it easy to alternate between sitting and standing. Safety-stops are also included, making the base shut off when there is too much resistance. This electric base features a high-strength, double channel frame with a weight capacity of 250 pounds.
At Office Ready, we know what it means to be "office ready". We also know what it means to be "user ready". That is why we offer a variety of ergonomic office chairs as well as adjustable desks, so you are sure to find something that works for your workspace, and more importantly, you.
LATEST ARTICLES

An All-Occasion Essential When it comes to refreshments, having the right cup makes all the difference. Enter the Boardwalk Translucent Cold Cups—an exceptional choice adaptable to any setting or occasion. No matter the size you require, these cups deliver an economical, leak-resistant solution perfect for everything from office gatherings to casual events. Adaptable Sizes, Boundless Possibilities Whether you're hosting a bustling office meeting or organizing a relaxed backyard get-together, Boardwalk...
Read more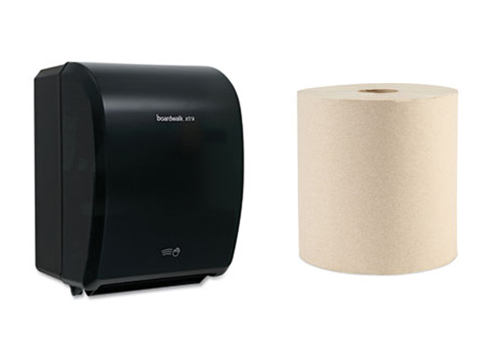 In the world of commercial restrooms and kitchens, the demand for efficient, hygienic, and eco-friendly solutions is ever-present. Boardwalk, a trusted name in the industry, offers two exceptional products that provide a seamless and environmentally conscious solution for high-traffic areas: the BWK33GREEN Hand Towel Dispenser and the BWK32GREEN Boardwalk® Green Xtra Roll Towels. BWK33GREEN Hand Towel Dispenser: The Ultimate in Efficiency The BWK33GREEN Hand Towel Dispenser is engineered to deliver...
Read more