Global Furniture Group - Sustainable, Contemporary Seating
To browse all products by Global Furniture Group, click here.
At Office Ready we feel that it is imperative to assemble a broad catalog that contains a variety of top tier products for our customers to choose from. With over 50 years of experience, Global Furniture Group offers some of the most innovative products on the market. With a wide range of styles and price points, Global has made a conscious effort to find something that fits all users.
Global Furniture Group innovates in as many ways as they can. In this, their commitment to environmental sustainability shines through. Global has examined every bit of their process and pushed for a think green alternative at each opportunity. We make it a priority to work with manufacturers that operate in this manner whenever possible.
We have added almost 100 options from Global Furniture Group's chair lines to our catalog. Below we will highlight 3 models that we are especially excited about adding, Global Accord, Global Supra and Global Sonic. Alternatively, you can view the entire Global Furniture Group Chair Collection here.
Global Accord
The best seat in the house, the Global Accord. Designed by Zooey Chu, the Global Accord is a winner of the ADEX Gold Award for Design Excellence as well as the IIDEX  NeoCon Canada Bronze Award. The Global Accord is the perfect choice for meeting rooms, boardrooms and private offices. Clean, simple lines across the back make for an eye catching design. We carry the Accord with options of an upholstered or mesh back that is shaped to support the natural curve of one's spine, reducing fatigue.
Global Supra
Designed by Zooey Chu, the Supra is an excellent option for a multitude of use cases. A popular choice for management, meeting room and guest seating, the contemporary, contoured cushions both on the seat and back provide comfort and support for the user. We catalog the Supra in both the armchair and tilter chair model. The Supra comes standard with polyurethane waterfall armrests on all chair models in the series, as well as black finish casters on the tilter model.
Global Sonic
The Sonic is a crowd pleasing choice for meeting rooms, office guest seating, food facilities, lecture halls and any other space that could benefit from a modern, breathable, lightweight plastic seat. With or without arms, and in 3 different colors, the Sonic can address just about any of your seating needs. The Sonic is made from a highly durable Polypropylene plastic material that is easy to clean and shape molded to keep the user comfortable.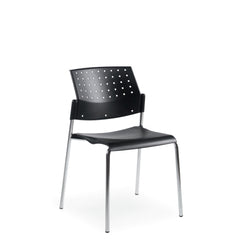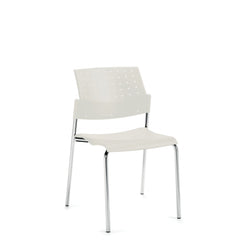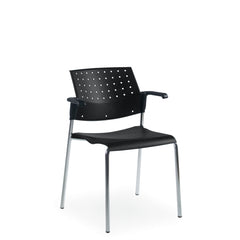 Greenguard Certification is, in part, a response to a demand from consumers and industry professionals to create a method of substantiating product sustainability claims. This certification is a third party assurance that can help guide purchasing and specification decisions. According to Greenguard.org, when something is Greenguard Certified, it means that a product has met "some of the world's most rigorous and comprehensive standards for low emissions of volatile organic compounds (VOCs) into indoor air." With a major source of indoor air pollution coming from building materials and furnishings, Greenguard Certification is becoming an important benchmark. Greenguard.org states, "more than 400 green building codes, standards, guidelines, procurements policies, and rating systems give credit for GREENGUARD Certified products." Click here for more information on Greenguard Certification.
At Office Ready, we feel that our goal of bringing great products to our customers needs to be done with a commitment to a sustainable and healthy future. Every Global Furniture Group chair that we have added to our catalog is at least Greenguard Certified, with many being Greenguard Gold Certified. And this comes at no sacrifice to the promise of product quality. We stand behind Global's lifetime warranty protection plan. Exceptions are a 5 year warranty on Foam, Textiles, Meshes and Electrical devices as well as 12 years for control mechanisms. For a full breakdown of the warranty plan see Global Furniture Group's Warranty Info.
Should you have any questions, please feel free to contact us using the form at the bottom of the page. We are more than happy to help you find the correct chair to suit your needs.
LATEST ARTICLES

In the fast-paced world of office life, convenience and practicality often take center stage. One of the unsung heroes of this modern workplace is plastic cutlery. While it may not be the most glamorous topic, plastic cutlery plays a crucial role in making office lunches, snacks, and even meetings more convenient.  1. Hygiene and Convenience In the era of heightened hygiene awareness, plastic cutlery offers a simple solution. Disposable plastic...
Read more
​

Coffee K-Cups have become a popular way to make coffee for several reasons. Here are some of the benefits you can enjoy with K-Cups: Convenience One of the main benefits of K-Cups is convenience. They are quick and easy to use, allowing you to make a single cup of coffee in just a few seconds. This is great for busy mornings when you don't have time to make a full...
Read more
​